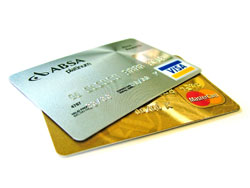 Simply put, debt is money you owe. When you borrow money by getting a loan or using a credit card and you choose to pay it back over time, this creates a debt. Debt is often described as quicksand: easy to get into, very difficult to get out of.
Your debt includes the amount of money you borrowed, but it also includes interest and fees. In other words, you owe what you borrowed PLUS interest and fees. Depending on the interest rate, fees, and how long you take to pay back your debt, the amount of money you end up paying can be MUCH more than what you originally borrowed, but you're going to be expected to pay it all back.
This happens because of COMPOUND INTEREST (or interest being charged on interest). Interest and fees are added on to what you owe AND then you are charged interest on that larger amount until you pay off your debt. This is how your debt balloons to a much larger amount than what you originally borrowed.
"Debt is a wicked beast!"
Devin, Kansas City
For example, if you have $6,000 in credit card debt and you only make minimum payments, it will cost you $15,456 and take you over 34 years to pay off. You pay back the $6,000 you owe plus another $9,456 for borrowing it and paying it off over time. OPPORTUNITY COST: Think of all the other uses for that $15,456 rather than just paying off debt. This example assumes an interest rate of 16% and a 2% minimum monthly payment.
Debt awareness is understanding the total cost of any debt you take on in monetary terms, but it also means realizing the "opportunity cost" of that debt, or where else you could have spent that money that is now being spent to repay debt.
If you only think about what you are borrowing, or your monthly payment, you are not looking at the full picture of your finances and are making an uninformed decision. Uninformed decisions, especially with debt, can lead to severe financial troubles. To increase your debt awareness, take a look at some borrowing fundamentals here.